My Integrum
"My Integrum" service offers its customers up-to-date online information on specific topics of interest to them: any and all aspects of political, economic, social and cultural life in Russia, the countries of the former Soviet Union and the world.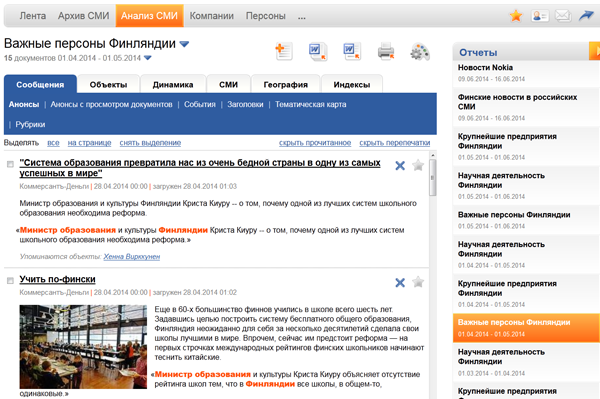 Brand new analytical instruments included in the service and developed on request of scholars all around the world facilitate conducting mass media monitoring of Russia and CIS countries.
For clients' convenience Integrum specialists make all the necessary settings for them to get information relevant to their sphere of interests.
The news feeds are updated every hour. In addition to the on-line feeds, the latest publications of customer interest can be e-mailed every hour or day on request.
Besides regularly updating news feeds and information search "My Integrum" provides ready-made analytical reports by means of the instrument "Monitoring" which allows tracing the dynamics of publications in mass media by regions, time span, circulation, readership and other criteria, viewing the proportion of positive and negative publications in form of diagrams and tables.
To get more detailed information on this service please download My Integrum presentation in Power Point format (855 KB), My Integrum leaflet in PDF (170 KB) and My Integrum user manual in PDF (943 KB).
If you wish to receive more detailed information on the Integrum services, as well as the subscription options, or free trial access, please contact us at support@integrumworld.com.