INTEGRUM™Companies
INTEGRUM™ Companies  is a reliable analytical service offering official information on more than 29 million Russian legal entities: bank and account details, accounting sheets, data on state contracts, investments, affiliated companies and foreign economic activity.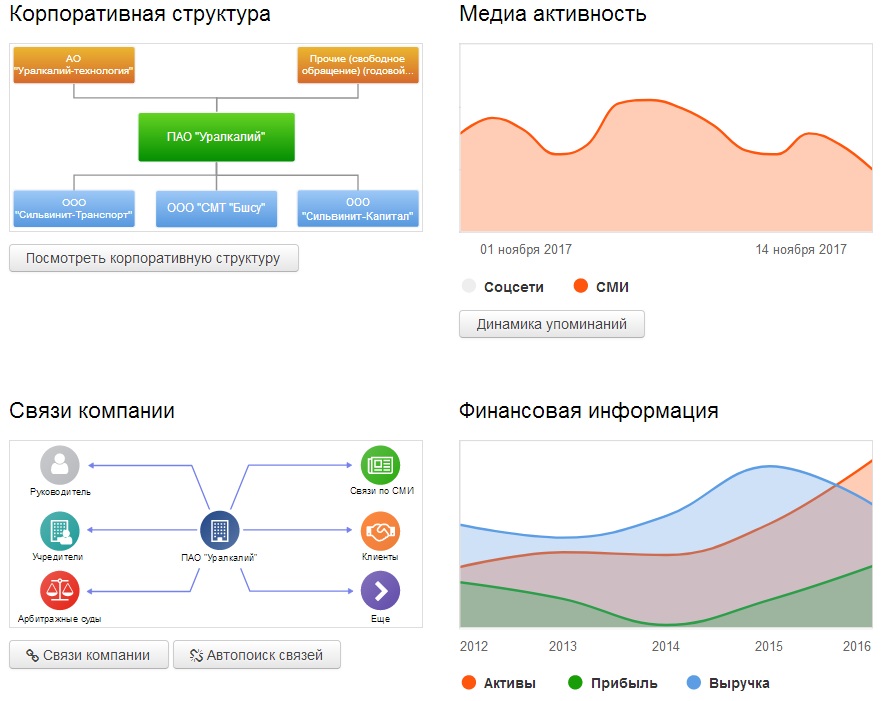 Among sources of information are Federal State Statistics Service, Official Single Register of Legal Entities, Unified State Register of Private Entrepreneurs, Federal Financial Market Service, Central Bank of Russia, Federal Treasury of Russia, Archive of arbitration awards, Russian Agency for Patents and Trademarks, Information agencies АК&M, AZIPI-Inform, Valaam and more blue-chip sources.
Integrum COMPANIES tool includes:
- Automated links search allows searching for relations between two objects: company-company, company-person, person-person. The system generates links between two objects, indicating the type of connection between objects;
- Company connections graphic navigator for analyzing and building connections between companies and individuals;
- Company Review allows to obtain complex information about the organization, including data on the managing director, shareholders, company's structure, financial state or negative information, competitive activity;
- Expert Review module includes data on credit indexes, due diligence, probability of bankruptcy, goodwill, financial status, affiliation;
- Financial analysis tool for easy search, filtering and data export by groups of companies and branches and many more features.
To get more detailed information on this service please download «INTEGRUM-Companies» presentation.
To use this service more efficiently please download «INTEGRUM-Companies» user manual and «INTEGRUM-Companies» leaflet.
Discounts are provided upon subscription to INTEGRUM™ Companies and any other analytical service together.
For information about subscription and trial access to this service please contact us at support@integrumworld.com