INTEGRUM™Companies
INTEGRUM™ Companies is a reliable analytical research tool for company departments working with contractors, customers and competitors as well as for researchers interested in modern Russian economy.
The service offers official information on more than 29 million Russian legal entities: bank and account details, accounting sheets, data on state contracts, investments, affiliated companies and foreign economic activity.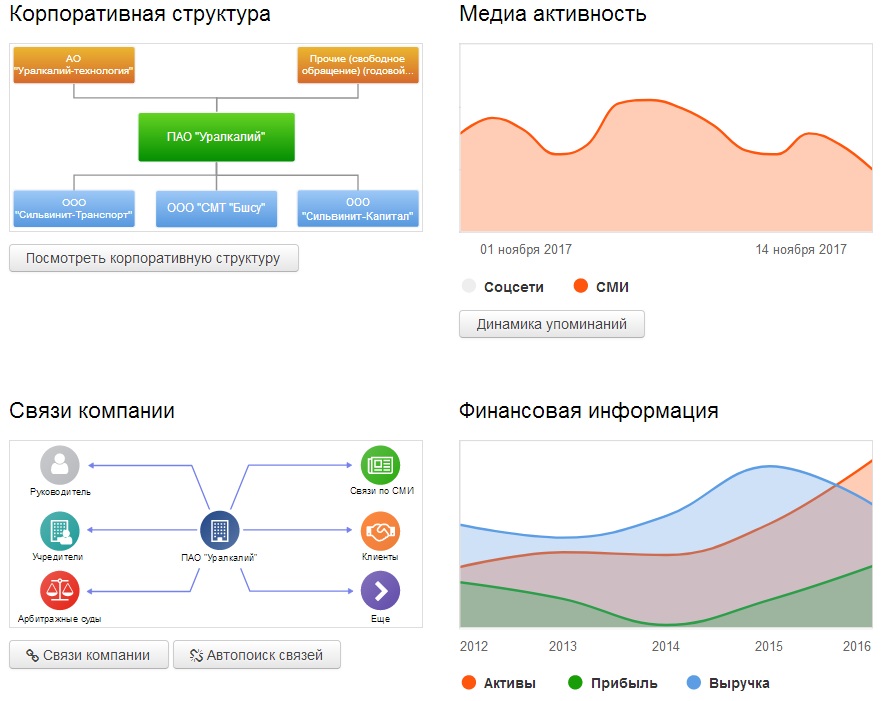 Information is collected from such official sources as Russian Federal State Statistics Service, The Bulletin of State Registration, The Unified State Register of Private Entrepreneurs, The Federal Antimonopoly Service of Russia (FAS), The Central Bank of the Russian Federation, The Federal Treasury of the Russian Federation, Unified information system in the field of procurement, The Russian Federal Service for Intellectual Property (Rospatent), reliable mass media sources and popular social networks.
With Integrum COMPANIES you can check and evaluate:
- company status, details and structure,
- financial condition and probability of bankruptcy,
- arbitration cases and reputation,
- information on writ of execution and blocked bank accounts,
- availability of licenses, pledges, patents, trademarks etc.,
- information about individuals and their business connections,
- any possible links between two objects.
To get more detailed information on this service please download «INTEGRUM-Companies» presentation and «INTEGRUM-Companies» leaflet or watch this short video.
To use this service more efficiently please download «INTEGRUM-Companies» user manual.
Discounts are provided upon subscription to INTEGRUM™ Companies and any other analytical service together.
For information about subscription and trial access to this service please contact us at support@integrumworld.com